A New Level Of Softness: ResMed's AirTouch F20 CPAP Mask
Experience ResMed's softest mask ever!
If you are using a CPAP Machine every night as treatment for your sleep apnea, you've probably noticed that you're now getting a much better sleep and feeling more rested each day. However, you're not a fan of your mask, and you're looking to feel more comfortable as you lay your head down on the pillow.
Does this sound familiar?
The CPAP mask plays an important part of helping you breathe easier throughout the night, but are you looking for an alternative that suits you better?
Well, there's some great news! ResMed has developed the new AirTouch F20 Mask, which is a softer and manageable alternative, designed to help you rest much easier all night.
Introducing the new ResMed AirTouch F20 Mask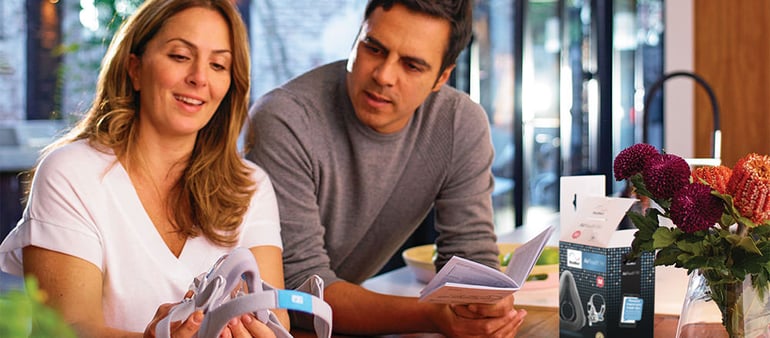 The new ResMed AirTouch F20 mask has an innovative cushion surface which means a more comfortable experience for you each and every night.
If you're finding your CPAP therapy is doing wonders, however your mask is bothering you, the new ResMed Airtouch F20 Mask could be your answer.
Here's why:
Annoying or painful mask use can lead people to skip their nightly treatment, meaning you are putting yourself back at risk of the symptoms of sleep apnea. However, the new ResMed AirTouch F20, is designed to feels light and soft on your face.
Designed to be simple, light and unobtrusive, the ResMed AirTouch F20 is unlike any other mask on the market at the moment. It's the first ResMed mask to use our UltraSoft™ memory foam cushion technology, a flexible frame and magnetic headgear clips for the perfect combination of comfort and performance.
Its modular frame design allows you to conveniently switch between ResMed AirTouch F20 memory foam and AirFit 20 InfinitySeal cushions, without removing the mask frame, so you can choose the best option to suits your needs.
Through the use of its breathable vented seal and quick release mechanism, the AirTouch F20 also ensures you experience comfort even at high pressures.
The range of fit, and ease of use makes wearing the AirTouch F20 mask a breeze.
The QuietAir™ system means that it's also one of the quietest masks on the market too.
The new ResMed AirTouch F20 Mask is everything you would expect from a quality ResMed product. Now you can get the better night's sleep and not compromise your comfort.
The ResMed AirTouch F20 Mask Makes Treatment a Gentle Experience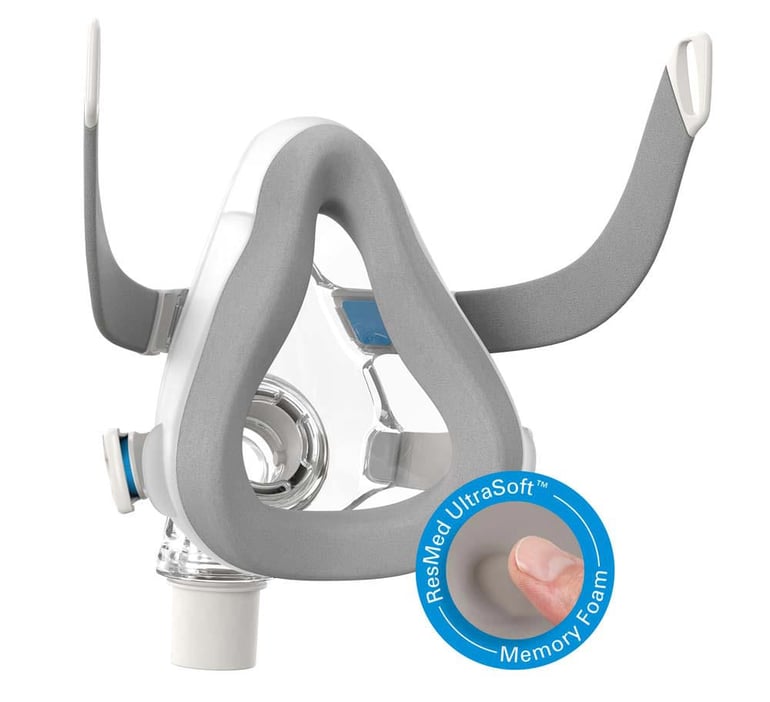 Unlike other mask alternatives using materials like silicone, the AirTouch F20 Mask has been specifically designed with ResMed's new UltraSoft™ memory foam, which offers you the following advantages.
Gentle Cushion Padding on your Face

Mask discomfort can be a serious issue because it can be frustrating and painful. However, the ResMed AirTouch F20 Mask is designed specifically to address this for you, resulting in a much more pleasant experience every night. The spongy surface is so light and comfortable, that you'll wonder how you ever wore any other mask.
Breathable Seal

The AirTouch F20's seals around the edges can breathe, allowing excess heat and moisture to escape to avoid any issues of sweating and temperature.
Adaptable to your Requirements

The mask cushions come in two types and three sizes (from small, medium and large), which can all be used easily with the one frame. This means that you and your Sleep Doctor can customise the mask to your treatment requirements and allow you to try different configurations when you need to, to get a better night's sleep. The pieces are also replaceable, simple to reorder and install.
A Much Better Fit

As the name implies, the memory foam cushion is flexible, and will adapt to the unique contours of each face, which provides a personalised and comfortable fit every time it is used.
Improved Range Of Motion

Everyone's face and head is different, the foam surface allows the AirTouch F20 to be 'one-size fits all', resulting is less problems and maximum usability.
Discover The Benefits of the ResMed AirTouch F20 Mask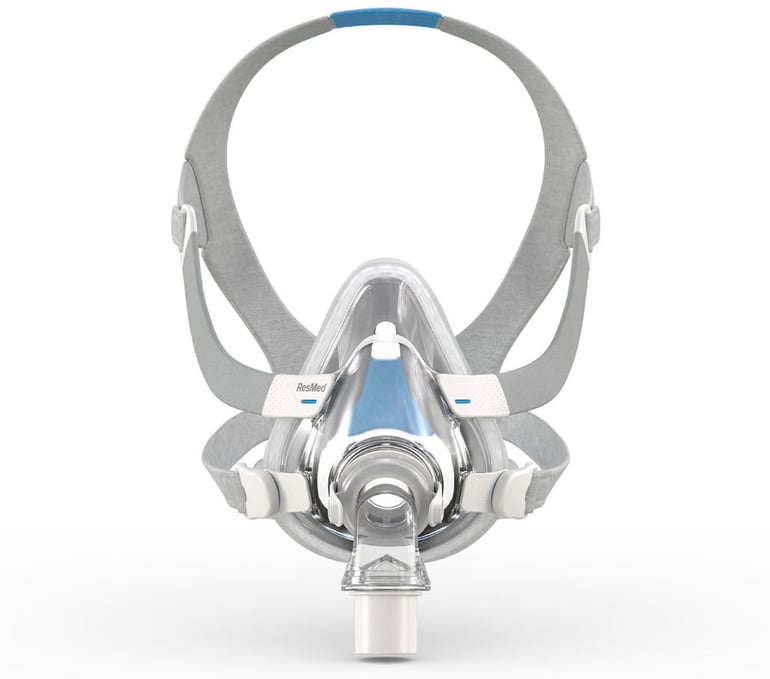 When using a CPAP Machine each night to treat sleep apnea, the best results come when you're feeling completely at ease in your bed.
The first step to getting this right is the mask. Feeling more comfortable with your choice of mask will improve your treatment experience and help you to feel more refreshed during the day.
Here's how the features of the new ResMed AirTouch F20 mask can benefit you, night after night.
Gentle on the Face

Designed to be softer than silicone1, the AirTouch F20 Mask uses ResMed UltraSoft™ memory foam along the edges to gently rest on the skin of your face, creating an outstanding seal, without excessive pressure or irritation caused by force.
Adapts to Facial Shape

Fitting 98% of patient faces studied in a recent ResMed trial, the AirTouch F20's ResMed UltraSoft™ memory foam cushion is designed to uniquely adapt to your facial features to deliver exceptional comfort and seal.2,3
Simple To Use

Designed to be intuitively fitted and simple to use, 98% of patients studied achieved a comfortable static seal with the AirTouch F20 Mask. 2,3
No More Skin Irritation In The Morning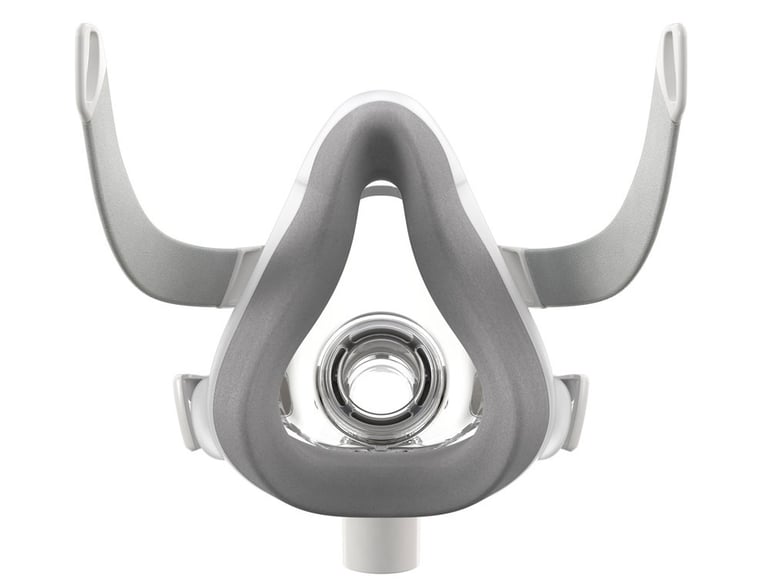 After you remove your CPAP mask in the morning, and look in the mirror, do you often see those sore red lines across your face?
A frequent complaint that people have with sleep apnea therapy is how the mask leaves prominent pressure marks across their cheeks and mouth where the edges have been pushing down all night. The weight of the mask on your face can cause visible red contact lines which are unpleasant and humiliating.
However, due to the new design and UltraSoft™ memory foam found in the AirTouch F20 mask, you can rest completely at ease knowing that the morning won't hold any more frustrating surprises that you need to grin and bear.
The ResMed AirTouch F20 distributes the force more broadly, meaning there is less pressure in specific areas which reduces localised irritation. The memory foam is also soft and compliant, which creates less friction and allows a small amount of air to pass across your skin.
In the recent study, 84% of patients had no facial marks or said that it went away within 30 minutes of removing the mask5. This is really good news because now, you can get excellent sleep apnea treatment, and not have to experience the frustrating side effects.
Maintenance and Cleaning is just as Easy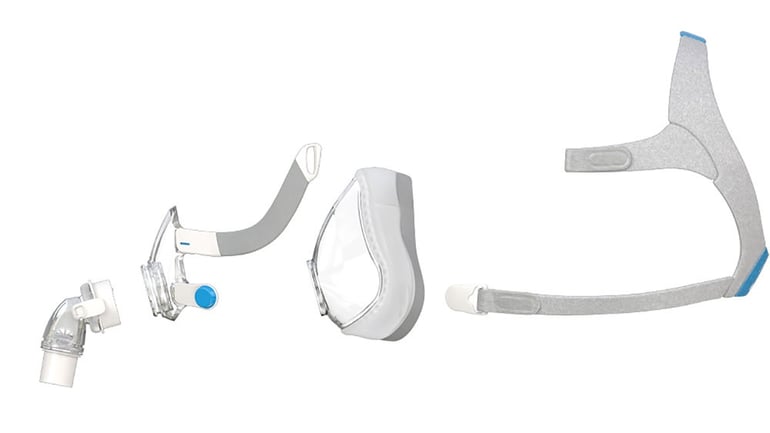 Not only does the UltraSoftTM Memory foam make the ResMed AirTouch F20 mask more comfortable, it's easy to look after too.
Cleaning the foam piece is different and simpler than cleaning plastic or silicone found on other masks. Designed to be changed regularly for convenience and hygiene, the AirTouch F20 requires minimal maintenance.
The foam only requires light cleaning to keep the mask clean for daily use. Simply wipe down the edges with an alcohol-free sanitised wipe, and then discard the current cushion monthly with a fresh new one.
Here are the four tips for caring for your AirTouch F20 cushion:
Discard the cushion piece once signs of deterioration form or unusual skin irritation occurs
Replace with a new cushion piece immediately so that you are comfortable wearing it every night to get the most out of your treatment
Clean the cushion every day with a simple wipe down from an alcohol-free wipe or cloth.
Keep the mask dry and away from liquids at all times.
Does the ResMed AirTouch F20 Mask suit my treatment needs?
The new AirTouch F20 Mask is suitable for your use if you:
Want more comfort from your mask because it is more comfortable than your current piece
Experience red facial marks, because it provides less friction and pressure on the skin and allows a small amount of air to pass across the skin
Have facial hair, because it conforms to the unique facial contours of each individual patient
Want a mask that is low maintenance. Just wipe with a CPAP mask wipe and replace the cushion monthly
AirTouch F20's QuietAir Technology Keeps the Bedroom Quiet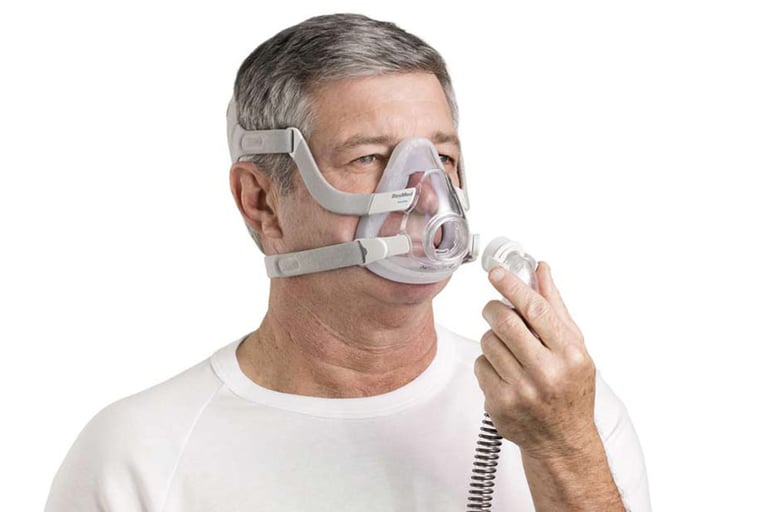 The ResMed AirTouch F20 looks after you, but what about your partner in the bed who listens to the sound of your CPAP machine every night?
Well, the AirTouch F20 Mask resolves this too. You can get an even quieter night with the AirTouch F20 Mask!
Called the QuietAir™, the ResMed AirTouch F20 Mask features a super quiet elbow mechanism which diffuses the air, delivering improved comfort for everyone within earshot.
At only 21 decibels, which is the equivalent of a quiet rural valley or mountain slope environment, the ResMed QuietAir diffuser vent minimises noise and gently disperses exhaled air, making the AirTouch F20 Mask quieter than any other mask before.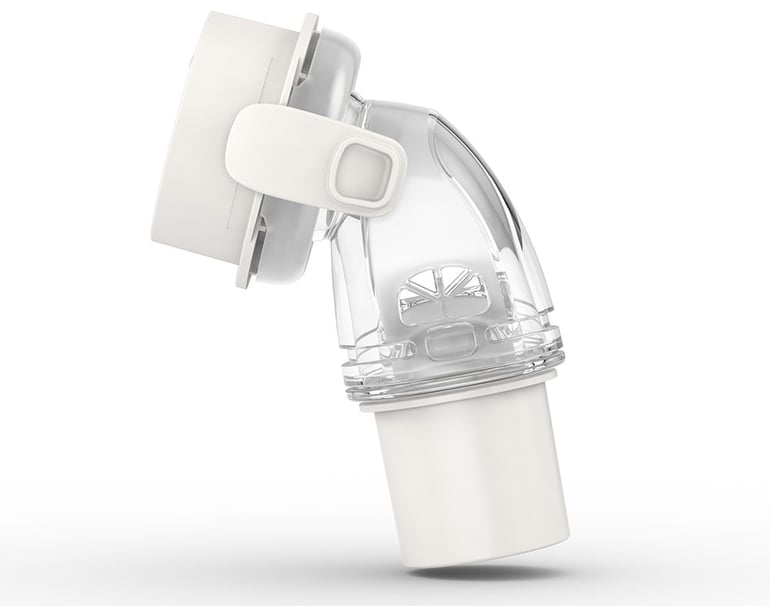 This means that it is 9 times quieter* and provides a 70% gentler exhaled air flow than ever before.
Without the QuietAir feature, the decibel rating of other CPAP masks reaches around 30 and over, which can make a difference in the bedroom at night.
When we are trying to sleep, peace and quiet is essential to minimise disturbance and promote a restful night in the darkness. So not only is the AirTouch F20 Mask designed to be more comfortable, it's also quieter too to help you sleep.
What are other Patients Saying About The AirTouch Mask?
In the recent study conducted, the below quotes were obtained from other users of the new AirTouch F20 Mask5.
"It's like wearing a pillow on my face."
"This is the most innovative design I have seen in the full-face mask arena. The foam cushion literally feels like nothing is touching your face at all."
"Silicone is soft, but this is softer"
"I think I am in love with it! It's awesome and feels so great on my face! I have super sensitive skin so that has been an issue in the past with masks but not at all last night!"
It's Time to Experience ResMed's AirTouch F20 For Yourself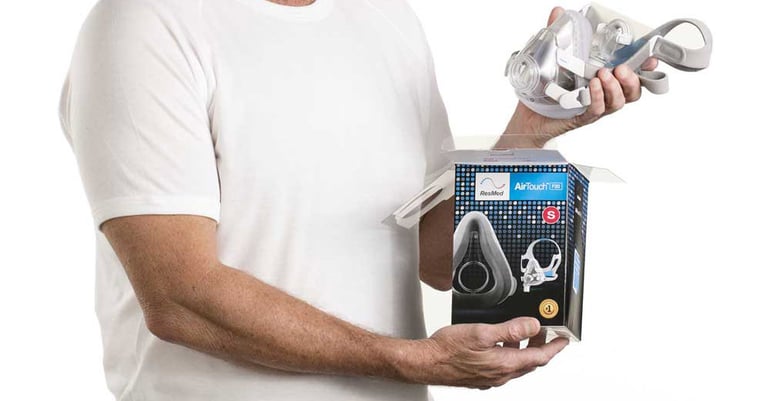 If you're looking for unparalleled levels of comfort and quiet each and every night during your sleep apnea treatment, then it's time to get the ResMed AirTouch F20.


References
ResMed internal testing comparing ResMed UltraSoft memory foam and silicone; ID A3622977.
ResMed AirTouch F20 internal international fitting study of 34 existing CPAP patients, conducted between 11/04/2016 – 15/04/2016; ID A3774922.
ResMed AirTouch F20 internal international fitting study of 43 existing CPAP patients, conducted between 25/07/2016 – 05/08/2016; ID A3846174.
ResMed AirTouch F20 internal USA fitting study of new and existing CPAP patients, conducted April 2016 and August 2016.
ResMed AirTouch F20 User Satisfaction Clinical Study, 2017.
* Reduction in sound power level of 10dBA compared with the standard F20 elbow.
** Measured as the reduction in peak velocity when compared to the standard F20 elbow.