A guide to CPAP therapy apps and devices
Today's CPAP users have access to new apps, programs and software that can help them track the progress of their treatment and make changes based on their specific needs. Minute-by-minute reports are available in some cases, meaning you can access incredible insights into your sleeping patterns, pressure changes and any potential mask leaks – allowing you to tailor your treatment plan.
There is no doubt about it, we are living in the age of 'Big Data'. Between the growth of the internet and the explosion of smartphones, we are creating data at dizzying speeds.
Did you know that more data has been created in the past two years than in the entire history of the human race?1 It's predicted that by 2020, there will be more than 6.1 billion global smartphone users, which will be used to take photos, upload information and share our personal data2.
Yet far from being a tool for marketers, all of these numbers can actually be used by everyday people to help us improve our lives. This is especially true for people using CPAP devices.
Using data to improve your CPAP Therapy
New software and apps that sync with your CPAP device offer amazing insights into your sleeping patterns, potential mask leaks and any overnight pressure changes, allowing you to tailor your therapy to suit your individual needs. Data that was previously only available for your sleep specialist to see. For many machines you can see minute-by-minute reports, other machines can produce day-by-day reports.
Here's a breakdown of the apps, programs and software that can help you track your sleep apnea treatment and achieve your goals:
ResMed
ResMed's myAir is a web-based program that syncs up with your ResMed AirSense CPAP machine to let you know how you went with therapy the night before, and helps you stay on track throughout your treatment. It provides a score based on how long you sleep, how well your mask "sealed", how many masks on/off were recorded, plus how many apnea events were recorded during each sleep. And because of ResMed's Airsense in-built cellular technology, your therapy data is uploaded to MyAir 1-hour after you take off your mask.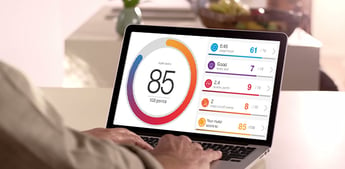 You can use your personalised dashboard to regularly check your progress across these four areas of therapy – helping you to better understand your treatment and improve your sleep. Meanwhile, myAir's sleep library includes a tailored collection of tutorials and other support materials designed to help you every step of the way. It also includes personalised information based on your sleep apnea machine and mask type.
Got a ResMed AirSense device? Sign up and start using MyAir today!