ResMed AirFit™ N30: a great CPAP Mask for comfort, style and ease
Drift away with the lightest ResMed mask yet. Until now, all nasal cradle masks featured a top-of-the-head tube design, including the ResMed AirFit N30i. The success of this new mask type meant that it was only inevitable before we saw a tube-down equivalent.
ResMed is the only brand to have launched one so far, with AirFit N30. It's interesting because nasal cradle masks are fast becoming a popular alternative to both nasal and nasal pillows masks.
The great thing about nasal cradle cushions is that they rest under your nose. They then seal around your nostrils to deliver therapy air. What this means is that they are less prone to causing red marks and nostril irritation than nasal and nasal pillows masks.
Early feedback for AirFit N30 suggests the mask is being well received. And according to a ResMed study, CPAP users even slept about 46 minutes longer on AirFit N30 than they did with their current mask, AirFit P10.1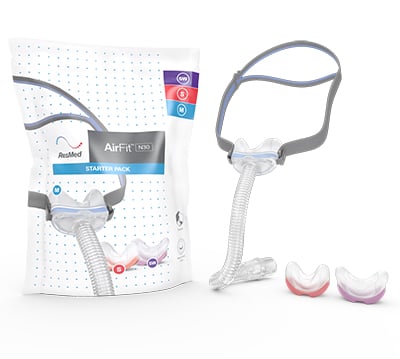 With the benefit of being the youngest family member in the ResMed 30 series, AirFit N30 brings all their best mask technologies together. The result is an incredibly well-balanced mask. We should mention it's also the lightest ResMed mask ever made, too.
If AirFit N30 looks familiar, it's because the headgear and frame design are taken from the best-selling AirFit P10. Both masks are designed to slip on and off like a pair of goggles.
The only difference between the two headgears is that AirFit N30 features an extra side clip. This allows you to make fine adjustments for a better fit. Even though the mask lacks forehead support, it's tested to be stable even if you sleep on your side.
The AirFit N30 has a three-piece design for easy setup and cleaning. Its discreet design may also give you the confidence you need to wear it near loved ones.2
One of the best features included with AirFit N30 is the ResMed QuietAir™ vent. This technology not only breaks up exhaled air but also spreads it out lightly to minimise noise and disturbance.
As the only tube-down nasal cradle mask in the market, AirFit N30 is a unique offering with a stellar mix of features. If you're looking for an alternative to your nasal or nasal pillows mask, you can't go past AirFit N30.

Want more information on the AirFit N30?
At EdenSleep, we always want you to feel well-informed.
So, for more information, see our AirFit N30 product page here which may be able to answer any of your questions.
Or, feel free to contact your local Sleep Professional who can discuss this mask with you and see if it's a suitable option for you.
References
1 ResMed. (2019) ResMed guided external clinical study of 17 evaluable CPAP mask users from Feb. 12–25, 2019 in Sydney, AU who trialled ResMed AirFit N30 at home for 7 nights in place of their prescribed mask, ResMed AirFit P10. Unpublished.
2 ResMed. (2019) ResMed guided external clinical study of 27 experienced CPAP mask users from 30 August to 11 September, 2019 in Sydney, AU who trialled ResMed AirFit N30 and a competitor nasal mask at home for 7 nights. Unpublished.